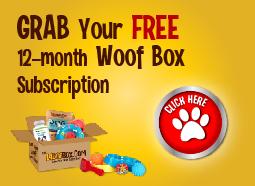 As a dog lover, you can help a canine shelter plus get a FREE 12 month subscription to The Woof Box for your furry friend and a lot more!

When you donate just ONE DISCOUNTED ($372 $271.56) 12 month subscription to The Woof Box, which you purchase on behalf of the Rescue Shelter to GIVE AWAY in its Sweepstakes, you'll be afforded the following:
A REBATE of $271.56 (payable to you) from the sales proceeds at the end of the Rescue Shelter's Matching Prize Sweepstakes to which you donated a 12-month subscription of The Woof Box.
[This Is How You End Up With a FREE One Year Subscription]
$300 in Restaurant.Com GIFT CARDS (3 $100's or 6 $50's) to use personally or GIVE AWAY as a GIFT.
ONE FREE 12 month Woof Box subscription (CLICK HERE) for your personal use or to gift to a friend or family member (LIMITED to your FIRST PURCHASE ONLY).
Want to have more chances to get FREE Woof Box subscriptions? Enter our Matching Prize Sweepstakes below: